Azores With Children
Parents of young children, (or toddlers as us English speakers like to call them!), you know the drill… where can we go for a few hours before or after nap time that's child friendly?
I.e. A place that has enough flat-ish, safe-ish space for my child to run free, where they won't get lost or fall down a deep ravine or be near a road!
That place may not need to be the most exciting place ever, but it will be through your child's eyes. Let's face it for them a trip to the supermarket can be the most awe-inspiring experience, or your worst nightmare, (depending on whether they have been fed, watered and rested adequately and don't have …fill in the blank)!
Where can we go to eat, that has indoor and outdoor spaces, so that when my child wants to 'get down' there is somewhere to play…
Where on earth is there to go on a rainy day on São Miguel Island?
What about child-friendly beaches that are buggy/stroller accessible?
Have you found when you are researching your once in a lifetime trip to the Azores that it's tricky to locate child-friendly activities? Maybe your little one doesn't want to do a day long bus tour of the island; they and you may have a far more rewarding experience keeping things small and simple. Seeing the island at a slower pace can be great fun and a more relaxing holiday.
So, here's a few things we've discovered along the way, on our journey of raising a very active toddler on São Miguel Island in the Azores! I hope you find it useful for your trip. Any more ideas / additions are always welcome
#1 Hiking
(one of the reasons the Azores is becoming renowned for a year-round location)
If your little one is still light enough to be carried in a hiking rucksack, here are a few less strenuous circular hikes that are fabulous:
This beautiful coastal hike starts in Maia on the North coast. It's a circular walk making a figure of 8 shape. The flatter and most dramatic part makes up the first loop, so it's possible to stop there before climbing the hill! The hike is called 'Pedra Queimada – Lajinha – Degredo' – São Miguel PRC36 SMI
Another amazing coastal hike in Maia, this time linear, has the reward of a beautiful deserted beach at the end of it and and old mill ruin and waterfall – Praia da Viola.
If your toddler likes to walk/run, then it's good to have the option of combining a bit of time for them to 'toddle' along, on the safer parts of the hike, with the rucksack at the ready for the cliff top paths!
The São Pedro coastal hike starts in São Vincente Ferraria and has safer and wider tracks in places, if you're doing a mixture of toddling and carrying. It's linear but you don't have to walk the whole distance to have a great experience.
Ladeira da Velha is a circular hike that starts near to Praia dos Moinhos. It takes in a spectacular waterfall, secret fairy like valley with a stream and spring and plenty of pasture land on the ascent of the walk, which is the safest place for little hikers! Some parts are a bit steep, but again it's also fun just to do part of the trail.
For a shorter walk, Lagoa do São Bras is stunning with amazing views of the island on a clear day. There's an unmarked trial around the lake, up through the woods and back around to the car park on farm tracks – just watch out for tractors!
We also love just meandering around our local caminhas (old roads / farm tracks), great for short circuits. There are lots of them on São Miguel and some make up part of marked trails. Again watch out for farm traffic! But if your child is anything like ours, tractor spotting is the highlight of the trip!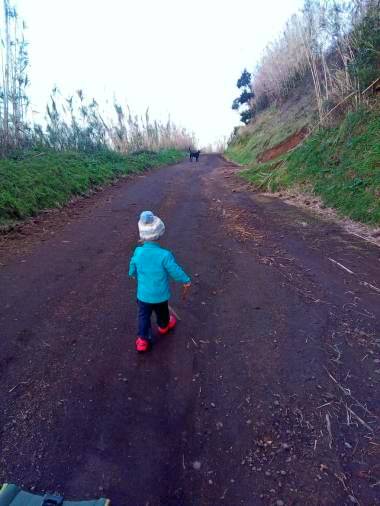 If you fancy combining a hike with a cup of tea, there are marked trails at both Porto Formoso tea plantation and Gorreana. Or you can just bimble about in between the tea plants!
This is my no means a comprehensive list. You can find the full list of trails available in the Azores here.
#2 Beaches
(the volcanic black sand is surprisingly cozy in the spring, autumn and winter months!)
Some of our favourites are Praia dos Moinhos in Porto Formoso, Praia da Santa Barbara in Ribeira Grande, Praia do Pópulo in Livramento and Praia de Agua d' Alto in Agua d'Alto. All of these beaches have easy access for buggies/strollers, nearby parking and have great cafes with outdoors spaces, see #4! There are sooo many others that are not listed here and we are still discovering places even after living here for almost 5 years!
#3 Beautiful woodlands and outdoor places
There are some amazing little woodland hideaways that are perfect places to take a picnic, or even have a BBQ to take advantage of the amazing Azorean outdoor cooking facilities! These are some of our favourites, away from the road!
Pinhal da Paz near to Pico da Pedra and not too far from Ponta Delgada is a rabbit warren full of forest trails, children's parks, open green spaces, picnic spots and BBQ areas. Check opening hours before visiting as although it's open every day, in winter season it closes earlier.
Jardim do Antonio Borges, a treasure trove of a park in the middle of Ponta Delgada, it has some amazing old trees with huge roots that are great for climbing, a 'traditional' children's playground and lots of pathways to explore.
Parque Urbano in Ponta Delgada is more modern and spacious, a young park development which is already growing into itself. It has some fun pathways, rocks to climb and tonnes of open grass for running and games.
The relatively unknown little gem Mata do Dr Fraga can be found just outside of Maia on the road to Furnas. A beautiful mini woodland, with a huge variety of trees and plants with many pathways to explore, as well as great picnic and BBQ facilities.
Lagoa Das Furnas has a gentle and flat circular walk, which features wooden sculptures. It also has shady picnic areas and a visitors centre, not to mention the spectacular bubbling caldeiras!
Friends of ours run a farm and offer 'Farm Tours' for tourists to the island and locals. This activity is ideal for children and it is a truly special way to understand more about dairy farming, one of the main industries on São Miguel.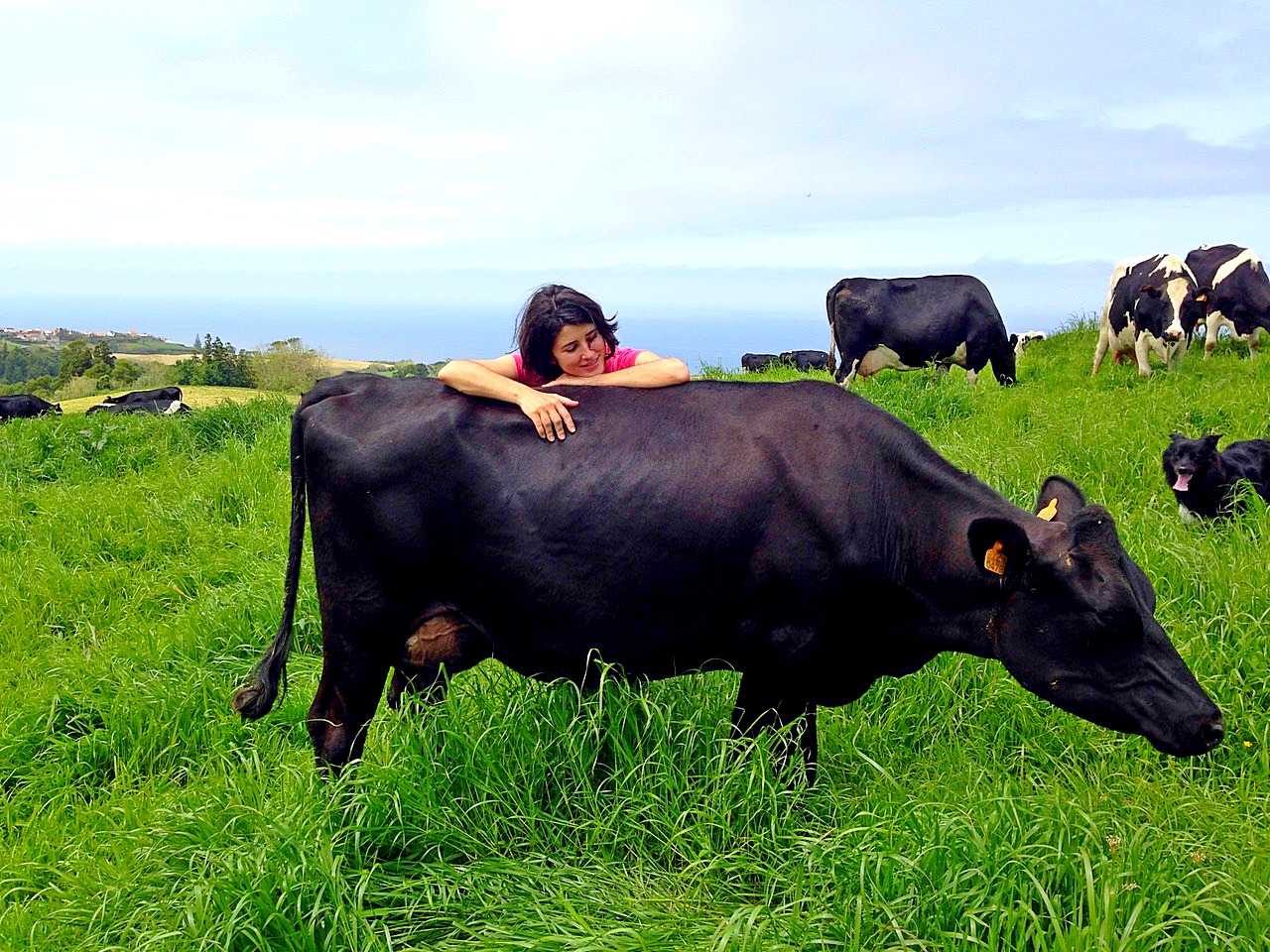 #4 Cafes / restaurants with outdoor spaces
A 'must' with an active toddler is having a safe space to play after eating and for the parents/carers/grandparents to be able to tag team out on being chief entertainer and sit down for a nice coffee or cold beer! So, it's not a coincidence that some of our favourite beaches also have fabulous cafes or eateries!
O Moinho Terrace Café has outdoor seating in a beautiful garden right next to the beach and they're famous for their burgers, even dogs are allowed in the garden.
At Praia da Santa Barbara there is the very popular Tuka Tula café which has an imaginative selection of sandwiches, wraps and fresh fish. The boardwalk leading down to the beach makes for a great runway for little ones with lots of energy and it's so fun watching the huge waves and surfers.
Praia do Pópulo boasts a beautiful and very sheltered beach and Sunset Beach Restaurant which offers a range of main meals, snacks and cakes. This beach is the most toddler friendly for swimming/paddling due to the smaller waves.
Bar Praia de Agua d'Alto has a lovely outdoor and indoor café with snacks or a range of tasty meals and 'prato do dia' dish of the day. Dogs also welcome in the outdoor seating.
From beach to park, there's always time to play and drink more tea!
We love 'In Nature' café in Jardim Antonio Borges, great for a refuel whilst being surrounded by amazing trees and playground near by!
See Part Two for more ideas of things to do – all things watery, hot springs and rainy day ideas!
Thanks for reading and please take the time to visit our website, which offers carefully thought out travel experiences and accommodation.
Our private island tours can even be catered to your toddler's needs with less 'stops' and more quality playing time!
A special family Outdoor Adventure Experience will be available from summer 2019 on wards, combining Laura's Forest School Practitioner and primary school teacher skills with Azorean nature. It's suitable for children aged 3 upwards and sessions can be designed specially to suit your family. Please feel free to send me an email at laura@azoresconnections.co.uk